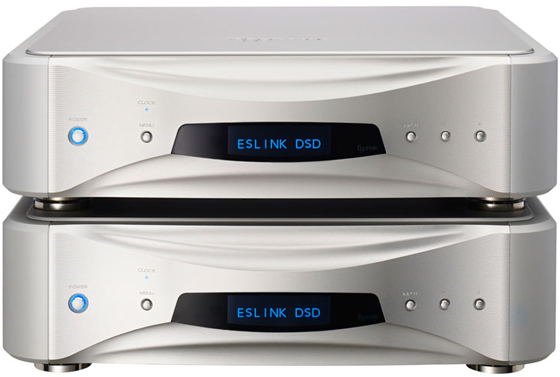 Convertitori D/A Serie D
Convertitore D/A mono. Scheda di conversione D/A con 8 chip Asahi Kasei AK4495S. Risoluzione a 36bit, 24/192 e 32/384 in PCM o DSD. Alimentazioni completamente separate per i vari circuiti con due trasformatori toroidali. Stadi di uscita ad alta corrente HCLD. Ingressi digitali: XLR mono o stereo, iLink, coassiali, ottico, USB-B, ES-Link. Uscite analogiche: XLR e RCA. Ingresso e uscita BNC per clock esterno. Peso: 24Kg.


Altre caratteristiche
Esoteric Grandioso D1
A monaural configuration for the ultimate evolutionary step toward the ideal stereo. The D1 follows the monaural configuration of the D-01, which we introduced in 2004 as the world's first monaural D/A converter. The D-01 was developed with the goal of attaining the highest level of channel separation and the ideal power supply to each channel. In the new D1, we have introduced the latest technology and further enhanced the design. The right and left channels can now be link-connected with a single HDMI cable (provided), and easy input from external source devices is possible. With the D1, you can enjoy a world of incredible stereo with the rich stereo image and sonic depth that is only possible with a monaural configuration.
Finiture

Silver